Wednesday 13/11
We woke up at 2:30 in the morning to leave for the airport. We arrived at the airport on time and had a nice flight. Once we arrived in Bratislava a volunteer was waiting for us at the airport. She took us to the hotel « Turist ». We arrived there together with some Russian students. At noon, we went with another volunteer to the city center to have lunch. After that, we went visiting the city and the castle of Bratislava. Then we had some spare time so we went to a pub. Then we went eating in the « Slovak pub ». We ate something local, but we didn't like it that much. After that we went to the hotel to prepare ourselves for the expo the next day.
Thursday 14/11
In the morning, there was a nice breakfast in the hotel. Once we finished breakfast it was time to leave to the Bratislava university for the expo. We went there together with Russian and Spanish students. First, we had to go to an aula where there was an intro for this expo. We didn't understand a thing of what they said because we don't understand Slovak. Then we've been on the expo for the rest of the day. In the evening we had spare time in the hotel.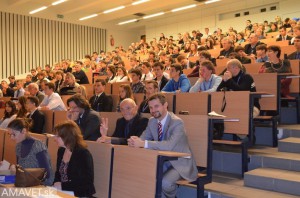 Friday 15/11
We woke up in the morning and there were a lot of people in the hotel. All the students from the expo seemed to be sleeping in that hotel as well. After breakfast we took the bus back to the expo. In the afternoon, they took us to a chocolate factory in Austria.This was fascinating. This trip was together with all foreign students. Then we went back to the expo. We had another free evening, so we went to watch some icehockey. The hockey arena was almost next to our hotel.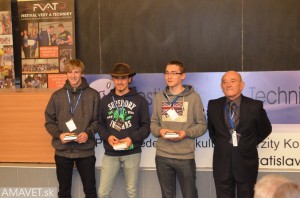 Saturday 16/11
Another busy morning. We took the buss with all students and off to the expo we were. At noon we had to close our stands, and go back to an aula to hear about the price winners. In addition, we did even win something! Price for the best foreign project! When this was over, we went visiting the city with a guide this time. We visited the ancient city of Bratislava, which was nice. In the evening we enjoyed the cheapness of the country and went to the city center.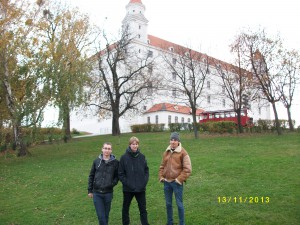 Sunday 17/11
We woke up early in the morning, because we had our flight back to Belgium. There was a volunteer waiting for us to get us to the airport. We had another nice flight back to Belgium.
We really enjoyed this trip the Bratislava, thank you for this!